Congratulations to our Poster Winners!
"Optimization of Air Light Guides for New HL-LHC ATLAS and CMS Zero Degree Calorimeters", Sam Lund (UIUC)
"Unraveling Chaos- How Cloud Seeding Could Impact Climate Change", Julia Herkert (Butler University)
"Investigating Outcomes of Inner Planet Formation Influenced by a Jupiter-Like Perturber", Simarpreet Gim (Missouri State)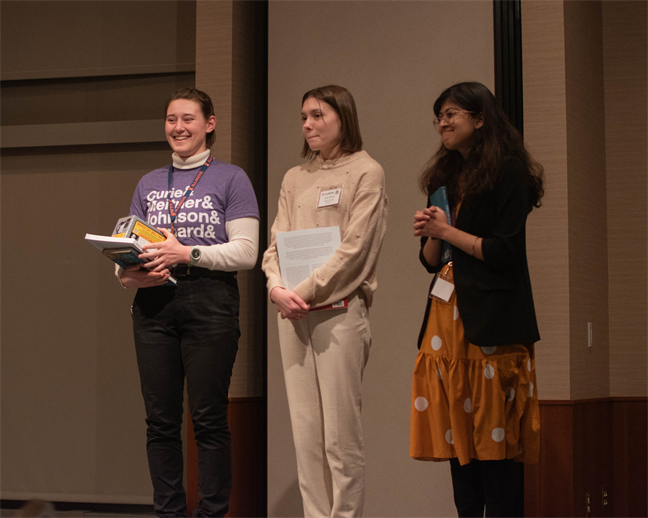 Poster Guidelines
Our poster session will take place on Saturday afternoon. All CUWiP attendees are encouraged to present a poster on any scientific research you have been involved with. There will be prizes for best poster. However, if you have not been involved in research or do not feel comfortable presenting your research, don't worry! Engage with the presenters during the poster session and learn about how you can become involved in undergraduate research.
When you register
Submit a short poster title and abstract. Please keep abstracts short and to the point (~250 words or less, though there is no hard limit). You will be able to update it later.
Important information
To ensure your poster fits on our boards, please limit poster size to 3' x 4' (36" x 48"), landscape orientation. You must print and bring your poster with you to the CUWiP. We encourage you to ask your home institution to help you print the poster.
Some suggestions
The poster should include (1) a short title, (2) student's name, (3) collaborator(s) and adviser(s) names, and (4) their department(s), (5) funding sources, (6) research objectives, (7) scientific background and significance to the field, (8) methods, (9) results/findings, (10) interpretation of results, (11) conclusions and directions for future research, (12) references.
All text and figures should be legible from a distance of 4 to 6 feet.
All language should be clear and unnecessary jargon avoided. CUWiP attendees span many disciplines within physics – don't assume everyone has the same scientific vocabulary. Remember what it was like when you first started research.
Limit the length of text – well thought out pictures, drawings, charts, figures, etc. can convey more information than a large block of text.
Each student should be prepared to discuss their posters with other attendants and poster competition judges. This discussion should be clear and concise, and should include the major points presented on the poster. It should not exceed 5 minutes; judges will be instructed to observe this time limit. If the presented project is a collaborative effort, be ready to describe your specific contributions.
If you have never made a research poster before, look at examples from your department or online. Practice explaining your poster to friends, lab mates, classmates, etc. Get excited!
Some (potentially) helpful resources for creating a good poster:
Example Poster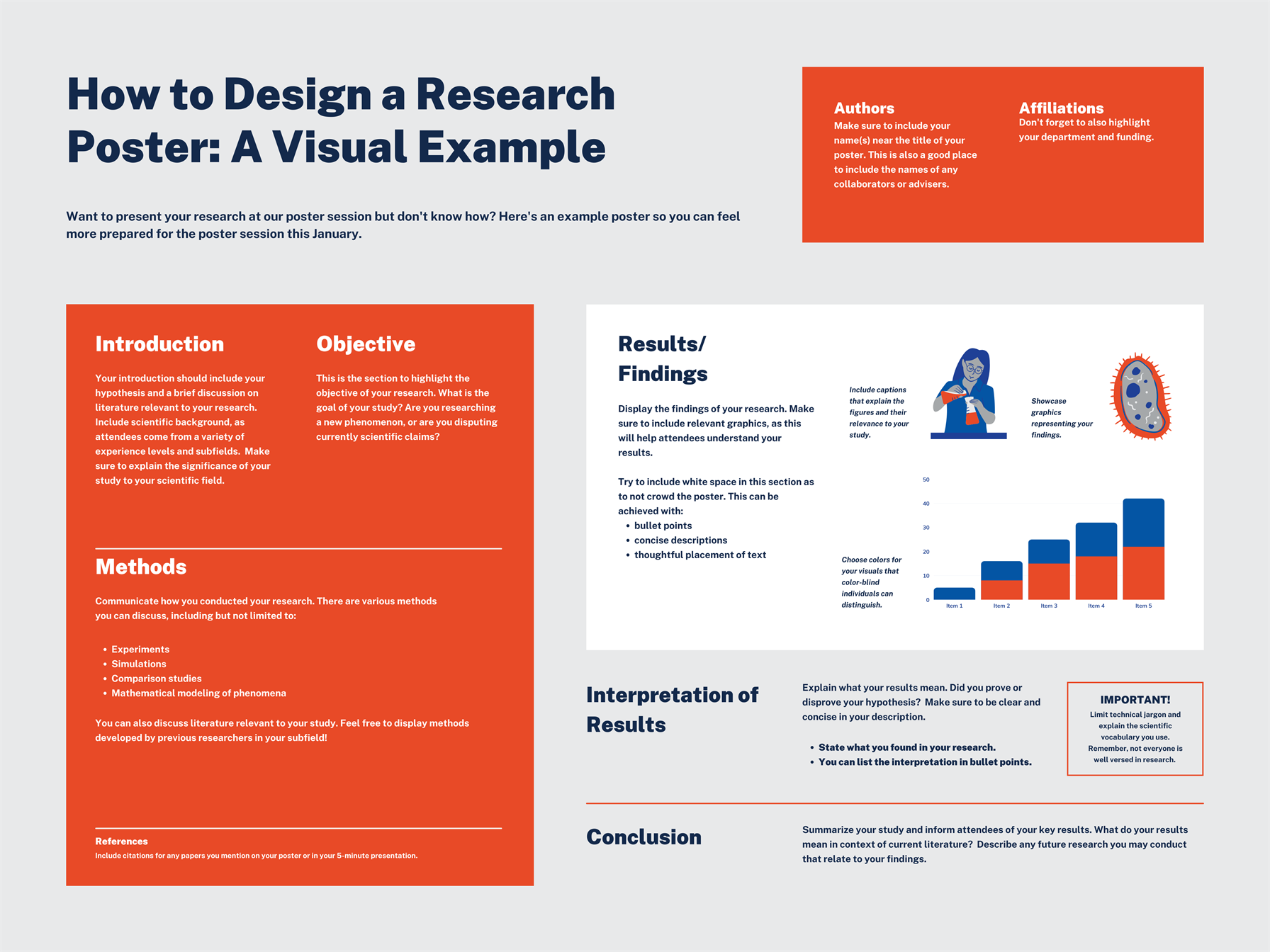 Poster competition details
Judges will be asked to grade the posters following the following criteria:
Content (40 pts)

Objectives stated
Significance/relevance stated
Project design and execution explained
Interpretation of results or current progress included

Display (30 pts)

Clarity of illustrations, graphics, figures, photos, etc.
Spelling, grammar, sentence structure, lack of excessive jargon
Ability to be understood by general audience without comment

Discussion (30 pts)

Clarity of presentation (recommended 5 minutes)
Ability to answer questions
Effective use of materials