About CUWiP - Conferences for Undergraduate Women in Physics
The goal of APS CUWiP is to help undergraduate women continue in physics by providing them with the opportunity to experience a professional conference, information about graduate school and professions in physics, and access to other women in physics of all ages with whom they can share experiences, advice, and ideas. The national and local organizing committees of APS CUWiP strive to create a welcoming environment for all, including undergraduate women and gender minorities.
The 2023 local CUWiP conference will be held in Loomis Laboratory, University of Illinois Urbana-Champaign on Friday, January 20 - Sunday, January 22, 2023.
All costs are covered for all undergraduate participants! Please read more about travel support and funding for the conference.
Apply to Attend the 2023 CUWiP Conference
You will apply to CUWiP centrally beginning Monday, August 29, 2022,
completing an application form. The deadline to apply for CUWiP 2023 has been EXTENDED until Monday, October 31, 5:00PM ET!
Application to CUWiP is free.
You will receive an email from APS on October 31st. If you are accepted to a CUWiP site, the email will contain instructions on how to register for that site by the deadline given in the email. You must register by the deadline contained in the email or your acceptance will be void and the CUWiP spot you were offered will be offered to a wait-listed student.
Registration requires a $45 fee, which helps offset the cost of the conferences. If your department is not covering the cost, and the $45 would cause financial hardship, you may request a fee waiver by following the procedure explained in your acceptance email. Please note, fee waiver requests must be made seven days in advance of the registration deadline.
CUWiP has become incredibly popular. In order to maximize the number of CUWiP participants we can accommodate, we will allocate participants to sites based on travel logistics and site capacity. Please do not purchase travel tickets or plan to be at a specific site until you receive an email confirming you have been accepted to a specific CUWiP site.
Additional 2023 CUWiP Conference Sites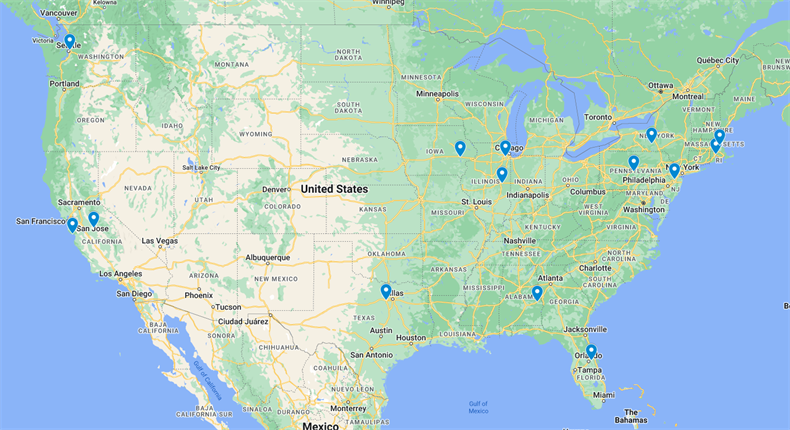 COVID Disclaimer
Currently, neither APS nor Illinois are planning to verify vaccination status, test results or mandating masks for this conference. COVID policies are subject to change.
If you do not feel well for any reason, it will be your responsibility to stay away from all in-person proceedings. For more information about APS COVID-19 safety guidelines visit
https://www.aps.org/meetings/policies/covid.cfm.